Ketoconazole Shampoo for Hair Loss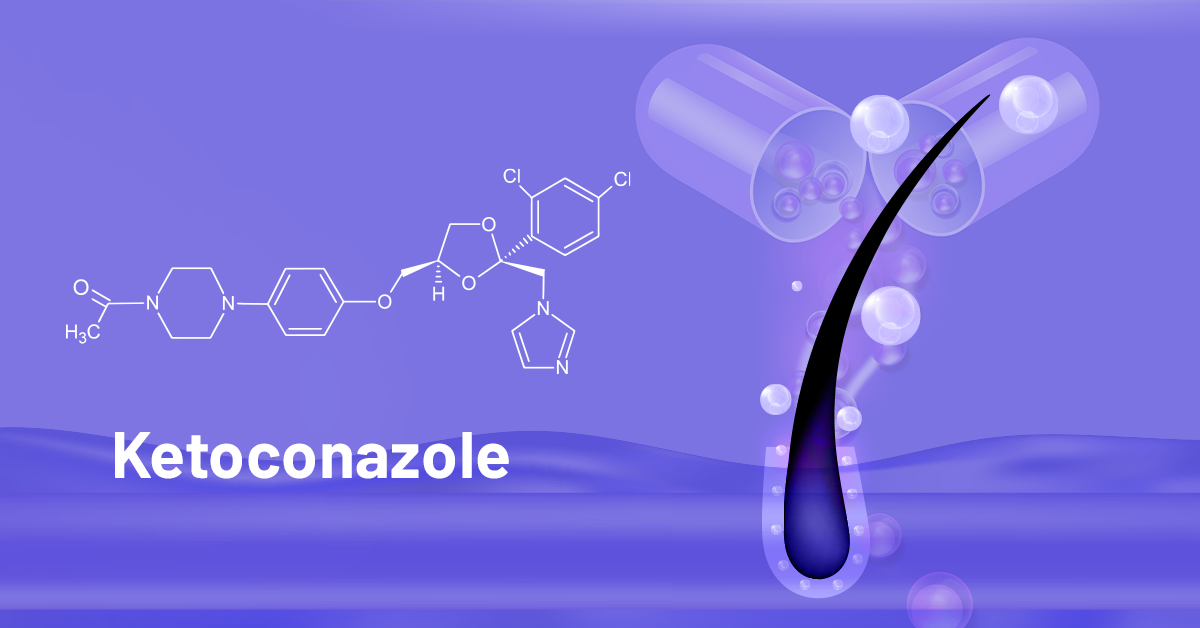 With constant exposure to pollution and dirt, our hair goes through a lot. Hair fall is one of the major effects that all of these environmental aggressors have. Hair fall is also caused by many other factors like dandruff or fungal infections. And if there is one solution that most doctors prescribe is Ketoconazole shampoo. Ketoconazole shampoo is your solution for most common hair concerns like scalp itch, dandruff and fungal infections. In fact, ketoconazole shampoos have become an increasingly popular way to treat hair loss effectively. Here is all that we need to know about the Ketoconazole shampoo:
What is Ketoconazole and How Does it Work?
Ketoconazole is an antifungal medicine that is used to treat skin infections and improve hair growth. Ketoconazole is used for various skin infections caused by bacterial or fungal growth such as ringworm, jock itch, seborrheic dermatitis or even dandruff. It is also used to treat psoriasis and is also widely popular in shampoo form for preventing male pattern hair loss. 
When it comes to ketoconazole shampoos for hair loss, it works to reduce the production of testosterone, which when high gets converted to a substance called DHT (dihydrotestosterone). This DHT when increased destroys hair follicles, resulting in hair loss. Overall, ketoconazole works in preventing the formation of the DHT thus preventing hair loss and bald patches.
What is the Link Between Ketoconazole and Hair Loss?
Ketoconazole is often prescribed by dermatologists as it helps to stimulate hair growth, and unclogging of hair follicles and it even helps in fighting seborrheic dermatitis. Ketoconazole has the ability to prevent DHT production thus preventing hair fall and receding hair line. Many clinical researchers also claim that ketoconazole has a similar effect on your hair just as minoxidil. This means, it helps in boosting hair growth, decreases stimulation of DHT and prevents hair loss. Ketoconazole is believed to have the ability of hair restoration and is widely popular for the same.
Also, when it comes to battling male pattern baldness, also known as androgenetic alopecia - AGA, the easiest way to tackle this problem with a solution is to remove DHT from the scalp. DHT (dihydrotestosterone) is one of the four androgens or male hormones that may cause damage to the hair follicles and thus lead to stunt hair growth and even lead to bald patches. It is also the primary molecule implicated in male pattern baldness. It turns out ketoconazole also works like finasteride which helps in blocking DHT and may also play a role in inhibiting the synthesis of DHT when applied directly on the scalp.
How Does Ketoconazole Help Stop Hair Loss?
Ketoconazole is highly popular for its ability to prevent hair loss and is claimed to have similar effects that as of minoxidil and finasteride. Ketoconazole helps in tackling major hair issues such as hair thinning and shedding that are usually triggered or caused by DHT (dihydrotestosterone). DHT is a male hormone that has the ability to cause a high negative impact on the hair follicles. It triggers the miniaturization of hair and also leads to dormant hair patches and a reduction in hair growth. This such cases, ketoconazole plays a role of causing hindrance by disrupting the DHT pathway which eventually leads to slowing down of hair loss and boosting of hair retention.
This DHT blocker also helps in completely eradicating the DHT build-up on the scalp which is one major step towards preventing hair fall. It also aids in treating fungal infections, reducing inflammation and it also helps in preventing hair loss. Also, to add to it, Ketoconazole has an anti-sebum impact, which helps in unclogging the sebum fats that gather around hair follicles so as to improve blood flow and to enhance nutrition absorption.
Does Ketoconazole Work for Hair Regrowth?
Yes, ketoconazole does work in helping and boosting hair regrowth. Thanks to ketoconazole's anti-fungal and anti-inflammatory properties, it has been proven that ketoconazole is very effective in stimulating hair re-growth. It has potent abilities to increase hair density and also has a positive impact on the size of hair follicles while your hair is in the anagen phase (hair growth phase). In fact, dermatologists recommend that using 2% of ketoconazole consistently every day for three weeks can clearly show signs of stimulation of hair re-growth.
What is Ketoconazole Shampoo?
Ketoconazole shampoo is a medicated shampoo that is mostly prescribed by doctors. This shampoo is designed to treat fungal infections that affect the scalp. if one is facing hair concerns like stubborn dandruff or itch or has hair conditions like fungal scalp infections, seborrheic dermatitis, psoriasis and more. Shampoos that contain ketoconazole are available both by prescription from your doctor as well as over the counter (OTC).
Types of Ketoconazole Shampoo
The different types of ketoconazole shampoos include -
1. Over The Counter (OTC) Ketoconazole Shampoo:
This OTC ketoconazole shampoo for hair loss contains 1% or less than that of ketoconazole. This is why most doctors or healthcare providers prescribe it as an OTC shampoo. Also, one of the most commonly known OTC ketoconazole shampoo brands is Nizoral. It is also easily available in many supermarkets as well as easily available for online purchases.
2. 2% of Ketoconazole Shampoo:
This type of ketoconazole shampoo usually requires a doctor's prescription as it contains 2% of ketoconazole. The most common brands that usually carry these 2% ketoconazole shampoos that can be easily found are Ketozal, Ketozolin and Ket Med.
Ketoconazole Shampoo Benefits
1. Ketoconazole Shampoo for Tinea Infections
Ketoconazole shampoo is commonly used as an antifungal medication to treat the infections caused on your scalp. In fact, ketoconazole shampoo can also treat tinea capitis and tinea versicolor.
Tinea capitis is like a superficial ringworm-like fungus infection that usually affects the scalp. It can cause severe itchiness and an uncomfortable rash on the scalp. Also, if not treated properly, tinea capitis can aggravate and can lead to hair shedding and permanent damage to hair follicles.
Whereas, tinea versicolor is a skin infection that is caused by an overgrowth of a type of yeast that naturally lives on your skin. It generally affects areas like the trunk, shoulders, jock itch or tinea pedis (athlete's foot).
Although for tinea infections, the best treatment way is to use ketoconazole shampoo. Consult your doctor once before you start using to know the right brand that you should be using.
2. Ketoconazole Shampoo for Psoriasis
Ketoconazole shampoo is a common treatment for inflammatory skin diseases like psoriasis. Concerns like skin flaking, skin plaques, and redness are highly common in psoriasis outbreaks and this is usually soothed with ketoconazole. The anti-inflammatory properties of ketoconazole help in calming the skin and preventing the yeast-like scaly patches of skin that often infect these skin plaques pr causes redness. If you have scalp psoriasis, then a ketoconazole shampoo may benefit you if you use it on its own or in combination with other treatments.
3. Ketoconazole Shampoo for Seborrheic Dermatitis and Dandruff
Here is all that you need to know about Ketoconazole shampoo for:
i) Seborrheic Dermatitis:
A condition related to dandruff; the seborrheic dermatitis (SD) is a severe version of the same. The main symptoms of seborrheic dermatitis are scalp itchiness, inflammation, scaling, redness, white or yellow flakes and excess production of sebum. The rashes or redness caused by seborrheic dermatitis is often itchy and when scratched, may cause skin flaking and dandruff.
Seborrheic dermatitis is usually caused due to the overgrowth of Malassezia, a fungus that is found naturally on the skin. This can also occur on ears, eyelids, neck, upper back, chest, and armpits. It is believed that seborrheic dermatitis can be caused due to various other factors like age, gender, and immune system health. And if there is one thing that is sure to help treat seborrheic dermatitis effectively, it is the ketoconazole. For scalp seborrheic dermatitis, ketoconazole shampoo is prescribed, whereas, for the other areas, ketoconazole cream is to be applied. The antifungal properties of ketoconazole can help treat seborrheic dermatitis and relieve the flaking, scaling, and itching associated with dandruff.
ii) Dandruff:
Dandruff is a common condition that affects many people. The main symptoms of dandruff include itching and unsightly large white flakes. Most healthy people lose skin cells on their scalp just like the rest of their body, but these are normally not visible. However, when they have dandruff, this changes. The white and crusty flakes are quite visible and these flakes are nothing but a cluster of dead skin cells. These are usually retained a high degree of cohesion and are detached as one piece from the scalp and thus form a cluster.
It is believed that this is caused due to stress and other environmental aggressors and factors including airborne chemicals. In fact, sometimes the fungal infection caused by Malassezia is also a factor that causes or triggers dandruff. As Malassezia is often found in the scalp of normally healthy people it simply multiplies when left unattended thus leading to seborrheic dermatitis.
And if there is one thing that effectively works in eradicating and eliminating Malassezia, it is the ketoconazole shampoo. The anti-fungal properties make sure that this yeast-like infection is no longer able to reproduce or even survive. It makes sure there is less scaling and there are also fewer signs of bothersome symptoms like itching, scaling, lesser flakes and redness.
[ Try: ForMen Anti Dandruff Kit - Best Dandruff Treatment Products for Men ]
How to Use Ketoconazole Shampoo?
Ketoconazole shampoo is usually always prescribed by doctors as it is important to first know the cause of the hair concern and how you should target it. Ketoconazole shampoo is usually used to treat hair concerns like dandruff or itching along with stimulating hair growth and stopping hair hall. When it comes to using a ketoconazole shampoo, read the label thoroughly for instructions.
If you are using a ketoconazole shampoo for scalp treatment, then apply the shampoo to your wet hair. Lather it well while giving it some time to soak into the scalp. leave it on for a few minutes before rinsing thoroughly. You can then condition the ends of your hair like you usually do, and rinse the conditioner and dry your hair like always.
However, if you are using a ketoconazole shampoo on a specific area of concern other than the entire scalp, you need to follow the steps carefully. Apply the shampoo on the affected or concerned area and leave it on as it is for at least five minutes. Rinse it thoroughly with water and dry like you normally do.
It is important to know how to use a ketoconazole shampoo as it completely depends on various important factors to help cater to the problematic area. Most of the best ketoconazole shampoo for hair loss include the strength of the shampoo which is either 1 percent for OTC or 2 percent for prescription medication. So, make sure you know the severity of your concerned area and use it accordingly. This is why it makes it highly important to consult your doctor before using it. In case of severe issues, most doctors may also advise that you use ketoconazole every other day or as infrequently as once a week depending on how quickly you need it as a solution to your concern.
Ketoconazole Shampoo Side Effects
While there are numerous benefits that one gets from the best ketoconazole shampoo for hair loss, there are some downfalls too. The shampoo has some minor side effects thus making it highly necessary for you to consult your dermatologist or doctor before you start using ketoconazole. For majorly sensitive skin, it may cause some allergic reactions, such as hives, breathlessness, or swelling of your face, tongue, lips, or throat.
Apart from that, other symptoms include:
Headache
Nausea
Stomach pain or diarrhea
Constipation
Heartburn, gases or acidity
Dryness of mouth
Skin rash and itchiness
Breast soreness and swelling
Mild dizziness
Furthermore, it is best to get in touch with your doctor if you see any of the following symptoms:
Dizziness
Palpitation or wheezing
Abnormally high heart rate
Bruising or bleeding
Unusual signs of fatigue
Numbness
Severe signs of depression, anxiety, confusion
Fever
Loss of appetite
Signs of jaundice
Swelling of the face, lips, tongue or throat
Tingling sensation
With the market filled with tons of medications that help in hair loss, Ketoconazole stands out to be one of the best. In fact, there is no doubt that ketoconazole can help significantly in the treatment of seborrheic dermatitis and dandruff. But there might still be some questions about its ability of hair growth. However, if you are looking just to tackle basic hair concerns like hair loss or dandruff, it might work significantly with the OTC ketoconazole shampoos.
But, one of the main drawbacks to ketoconazole shampoo is that it is a medicated product it is not ideal for long-term or frequent use. For this reason, if you add it to your hair loss regimen, aim to use it just as your dermatologist recommended you to. Because ketoconazole might turn out to be harsh on the hair and may cause adverse effects like change in texture or bald patches. It is important to use ketoconazole shampoo exactly as directed by your doctor - never more or less frequently. 
FAQs:
1) Does Ketoconazole Help Stop Hair Loss?
A) Yes, to some extent, Ketoconazole acts as an antifungal medication that helps in tackling hair concerns that may be leading to hair loss. It is however a first choice of medication for hair loss treatment for androgenetic alopecia (genetic pattern baldness) in both men and women. It is also used for dandruff, psoriasis and seborrheic dermatitis.
2) Does Ketoconazole Shampoo Cause Hair Loss?
A) Ketoconazole when used under the prescription of a dermatologist works effectively for stopping or curbing hair loss. However, it is only is rare cases that one might experience hair loss due to it. When you use it as prescribed and still notice abnormal hair loss or if you don't see any change even after a month, then consult your dermatologist, as it would mean that you need to either change the dosage of the medication or need to alter the course of it.
3) How Long Does it Take for Ketoconazole to Work?
A) Ketoconazole is always recommended to be used as per what and how long the doctor or dermatologist has prescribed. The dosage may differ from patient to patient and so will the time to show effective results. However, ideally, it takes about two to four weeks for you to notice results for some initial temporary hair loss. Also, if you notice that it's more than four weeks and you see no results at all or notice a difference in your hair texture, then consult your dermatologist and get your dosage changed and course altered for better effective results.
4) Is Ketoconazole Good for Dandruff?
A) Yes. Ketoconazole shampoo is highly recommended for dandruff. Ketoconazole has anti-fungal properties along with an anti-sebum impact on the scalp with help in curbing dandruff.  In fact, ketoconazole is also known to treat seborrheic dermatitis amongst many other hair concerns. It has the ability to heal your hair follicles, unclogging them whilst promoting a healthy scalp. As a healthy scalp creates an environment for hair growth and keeps infections at bay ketoconazole plays a key role in ensuring the same. However, having said that, ketoconazole is not entirely effective on all kinds of dandruff and you may want to mix it with a variety of other dandruff curing shampoos in case the dandruff recurs and does not go away.
5) Are There Steroids In Ketoconazole?
A) No. Ketoconazole does not contain steroids. It is in fact, a synthesized imidazole antifungal medication that helps in treating various fungal infections.
Also Read the Articles:
---