How to Use Bhringraj for Hair?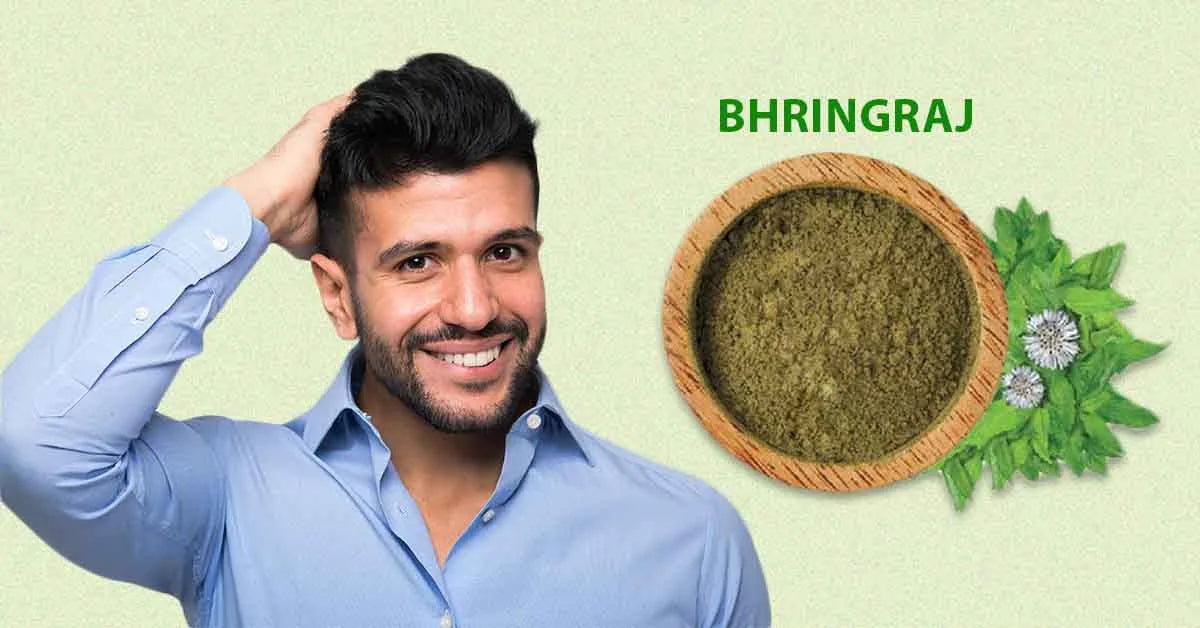 Bhringraj has been around for centuries. The tradition of women massaging the oil in each other's hair persists in many parts of the country. While there is a plethora of hair oils grandmothers recommend for lush and thick hair growth, Bhringraj has always been the undisputed king of hair oils.
Bhringraj is also known as false daisy, Eclipta prostrata, yerba de tago, Gunta kalagaraku/Gunta galagaraku, Karisalankanni.
So, what makes Bhringraj so special for hair? It contains abundant nutrients such as vitamin E, iron, magnesium, Vitamin D, polypeptides, and steroid calcium. What's more, it is rich in protein, an essential ingredient for rich hair growth.
Before we look at the benefits of Bhringraj for hair growth, let's briefly examine the benefits of this fantastic herb on overall health.
Benefits of Bhringraj for Your Health
Bhringraj powder taken with water is good for keeping cholesterol levels in check as it contains anti-inflammatory and antioxidant properties.
It fights liver cell damage caused by free radicals.
It is a diuretic and a great way to manage urinary issues.
It is beneficial in cases such as dysentery and diarrhoea.
Its antispasmodic properties combat problems like stomach spasms and cramps.
Benefits of Bhringraj on Hair
It's interesting to explore the various Bhringraj uses for hair. This herb has innumerable benefits for hair care:
1) Bhringraj as a Vasodilator
Bhringraj powder is a vasodilator; it widens the blood vessels, increasing blood flow to the hair follicles. This, in turn, induces new hair growth as the hair follicles get a rich blood supply.
2) High Specific Gravity for Easy Penetration into the Scalp
Due to its denseness and high specific gravity, Bhringraj can penetrate the scalp easily, thereby treating a dry scalp. After the oil is massaged into the scalp, a hot towel wrapped around the head improves absorption as the sebaceous glands are activated due to heat. Heat effectively opens up the pores for the easy absorption of the nutrients in the oil.
3) Gives a Lustrous Mane
Rich in nutrients, Bhringraj oil deep-conditions the hair, giving it a luxurious shine and feel. The nutrients in the oil are absorbed into the hair follicles, giving them the nutrients they need. The lustrous feel of the hair is a sign that the oil is effective.
4) Repairs Damaged and Brittle Hair
Dry and brittle hair due to the use of heating tools and hair styling products can be hard to treat. Constant use of these tools leads to dry, damaged, and brittle hair. Exposure to harmful UV rays does a lot of damage to your hair. Bhringraj oil effectively treats hair damage and improves the tensile strength of hair when used regularly.
5) Treats Baldness
If used regularly, Bhringraj oil may treat baldness. As it is a vasodilator, Bhringraj oil ensures that the nutrients in the oil are easily absorbed into the skin. Over time, hair loss may slow down as the blood circulation to the scalp increases.
6) Controls Hair Fall
Bhringraj oil is a cooling medium and can reduce your stress levels, one of the significant causes of hair fall. This natural therapy for hair loss encourages the growth of new hair. Since this herb contains vital nutrients, the oil can also reduce hair fall.
7) May Prevent Premature Greying
Bhringraj leaves are well-known for their dyeing properties. This makes it a perfect go-to herb for premature greying. In combination with ingredients such as Amla and indigo, Bhringraj oil slows down and prevents further greying of hair.
8) Combats Scalp Infection
Various scalp infections can be treated by Bhringraj oil as it has antibacterial properties. These include bacterial infections, psoriasis, tinea infections, and follicle issues. With regular use, the inflammation reduces, inducing hair growth.
9) Nourishes Hair
Bhringraj for hair is a treasure trove of vital nutrients. Regular use of this herb gives your scalp the nourishment it needs. The texture and feel of your thick hair after everyday use indicate its efficacy.
How to Use Bhringraj Powder for Hair?
Bhringraj powder is versatile and can be used in various ways to address hair issues.
You can treat many hair-related issues with a Bhringraj powder paste.
Mix bhringraj powder with a bit of water to make a smooth paste. Massage gently into your scalp, covering all the areas properly. Let the paste sit for around 10-15 minutes, and then wash it off with a gentle shampoo.
Bhringraj paste is an excellent remedy for nourishing hair follicles, strengthening the hair and curbing hair loss and baldness.
As it is a cooling agent, applying this paste to your hair cuts down your stress levels and ultimately reduces stress-related hair loss.
Depending on the problem you want to tackle, this powder can be mixed with other ingredients to treat your hair.
Let's check out the how to use Bhringraj powder for different hair problems:
1) How to Use Bhringraj Powder for Dandruff?
Mix equal quantities of Bhringraj for hair powder and Amla powder in a bowl. Add enough yoghurt to the mix to make a fine paste.
Apply the pack to your hair and let it sit for around 20-25 minutes. Rinse off the paste and use a gentle shampoo to wash your hair.
This pack is great for dandruff and also strengthens the hair.
[ Also Try: The Best Dandruff Treatment Kit for Men ]
2) How to Use Bhringraj Powder for Greying Hair?
Studies show that Bhringraj has darkening properties that can give your hair a black tinge. As it contains plenty of antioxidants, it also prevents premature greying.
Mix Bhringraj powder with water to make a smooth paste.
Apply the mixture to your hair and let it sit for at least 45 minutes before rinsing it off.
Wash your hair with a gentle shampoo to remove any residue.
For quicker results, use this pack at least once a week.
3) How to Use Bhringraj Powder for Glossy Hair?
Take an aloe vera leaf and remove the thorns on the sides.
Grind the gel with 1tbsp bhringraj powder to make a smooth paste. Avoid adding water to the paste.
Apply the paste to your hair and let it sit for 15-20 minutes.
Wash off the paste, and then shampoo your hair.
This paste is great as it gives your hair a glorious shine and arrests hair fall.
4) How to Use Bhringraj Powder for Hair Growth?
The combination of Bhringraj and Shikakai is ideal for hair growth and hair health.
Add 1 tbsp of Bhringraj powder to a tbsp. of Shikakai powder. Mix these powders with a cup of yoghurt.
Apply the paste to your hair and let it rest for around 20 minutes.
Rinse your hair and wash it using a mild shampoo.
Regular use of this mask will improve hair growth.
Bhringraj Hair Oil for Hair Growth
Bhringraj, also called Eclipta alba, is a herb well-known for its benefits for hair and health.
Bhringraj Oil Benefits for Hair
Bhringraj oil improves blood circulation in your scalp and increases hair growth by restoring hair follicles. The difference is visible after only a few weeks of application.
Bhringraj oil is beneficial for hair issues such as frizz, dandruff, dry scalp, and baldness.
How to Use Bhringraj Oil for Hair?
Warm the oil before application. Ideally, it would help if you let the oil seep into your hair follicles overnight. You can wash your hair with a mild shampoo the following day.
It is advisable to start applying the oil to your hair twice a week. You can reduce the frequency to once a week after that.
While it's better to keep the oil in your hair overnight, you can keep it in your hair for a few hours before you wash your hair.
Bhringraj Oil and Ayurveda
Ayurveda advocates massaging the oil into your scalp at bedtime. An effective massage helps the oil go deep into the hair follicles, leading to healthy and strong hair. The oil needs to be massaged in gentle strokes. Hard and rough strokes can do more damage than good as the hair can get uprooted.
According to Ayurveda, tapping the cause of your hair fall is the first step in the line of treatment. Once you locate the cause and treat it, it will become easier to improve hair growth using bhringraj oil.
How to Use Bhringraj Leaves for Hair?
Leaves plucked from the tree are undoubtedly rich in nutrients. And Bhringraj leaves are no different.
So, how to use Bhringraj leaves for hair? Let's find out:
Wash a bunch of Bhringraj leaves.
Blend to make a paste.
Use around a tsp of this paste and apply it to your scalp. You can take a bit more if needed.
Leave it on your scalp for around 5-8 hours.
Rinse off the paste and use a mild shampoo to wash your hair.
This remedy is effective for managing balding. You can repeat the treatment 2-3 times a week.
Along with the above mentioned methods, you can also try the following formen products so that you could see wonderful results.
Formen Products for Healthy Hair
1) ForMen Hair Re-Growth Kit

This hair regrowth kit contains shampoo and serum. The hair growth serum is a potent and multi-functional product that stimulates the follicles for better hair growth.
It contains substances like procapil, kopexil, biotinoyl, tripeptide, caffeine, saw palmetto, redensyl, and follicusan.
The anti-hair fall shampoo helps reduce hair fall and encourages hair growth. It is infused with aloe vera, watercress, and Indian cress extracts, making it a perfect buy for hair growth.
Get 39% discount on ordering Formen Hair Regrowth Kit online.
2) ForMen Hair Growth Super Kit (Minoxidil + Derma Roller Combo) 
You can't find a better product than this hair growth kit with a derma roller to kickstart your hair growth regimen.
Minoxidil is a vasodilator that helps regrow your hair and even controls hair fall. This double action kit is ideal for slowing down the balding process.
The derma roller, with its 540 titanium alloy microneedles, is a handheld device that is perfect for stimulating follicles for hair growth.
Check the price of Formen Hair Growth Super Kit and Order online to get 39% discount!
3) ForMen Hair Shampoo 
This shampoo contains Ceramides, Watercress, Vitamin E, Aloe Vera, Argan Oil, Caffeine, and Biotinoyl Tripeptide -1.
It stimulates hair growth and strengthens your hair to control hair fall.
Not only that, it looks after your scalp health too.
Why are you waiting? Order online Now and Get 30% discount on Formen Hair Growth Shampoo!
Also Read the Related Articles
---