Fenugreek Benefits for Hair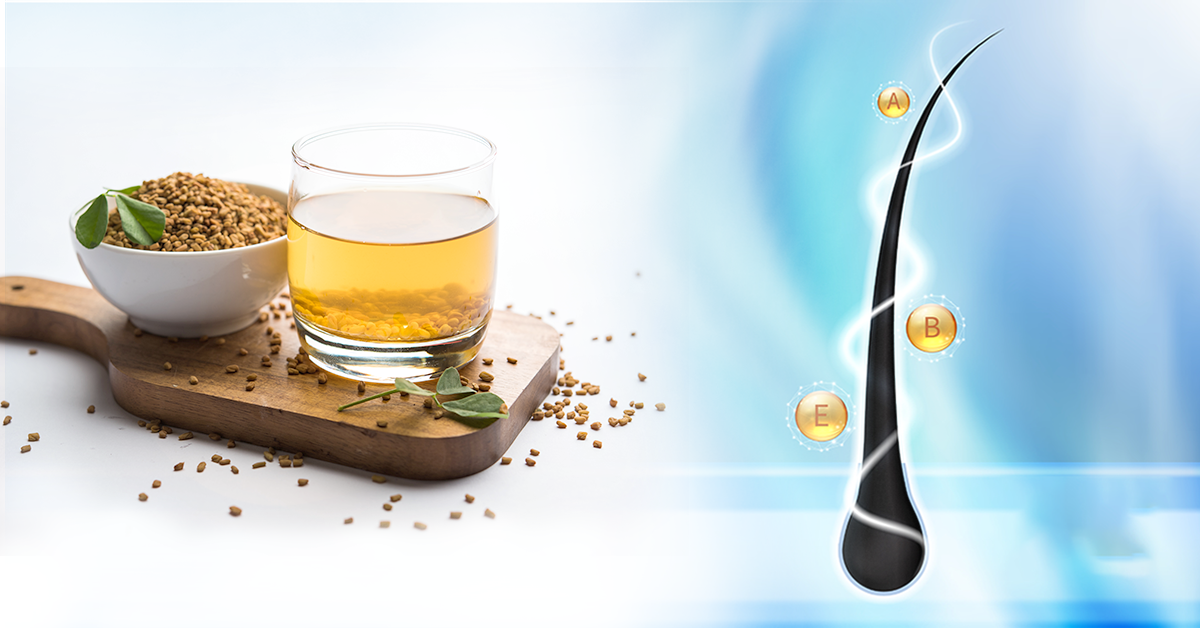 We experiment with a million things for our hair. From expensive hair packs and shampoos to spas and what not! But there is one highly beneficial ingredient hiding in your household that actually works wonders for your hair too. This magical superfood for hair is Fenugreek! Yes, fenugreek helps you tackle major hair problems! From preventing hair fall to curbing premature greying, fenugreek has been a handy herb for many years now! And to help you know all about this magical herb, we have it mentioned below in detail.
From its benefits to ways to use it, scroll through to read all about it:
What is Fenugreek?
Fenugreek is also known as Methi or Methi seeds in India. This herb comes from native Southern Europe, the Mediterranean, and Western Asia. It holds a high importance in Ayurvedic and Chinese medicinal practices and is a core part of Indian curries and cuisine.
Fenugreek is known for its highly beneficial properties like boosting digestion and metabolism, helping in breastfeeding, treating diabetes, inducing labor, and even works as a dietary supplement for menstrual cramps. It's also believed that it may have anti-cancer properties, as well.  Fenugreek seeds are a rich source of vitamins A, B, and C, as well as flavonoids, phosphates, saponins, iron and other components.
Now that you know how beneficial fenugreek is for your body, let us tell you all the amazing things that fenugreek seeds are capable to do to your hair!
Does Fenugreek Help Hair Growth?
Fenugreek is packed with vitamins like A, B, C, K, proteins, calcium, iron, potassium, folic acid, phosphate, saponins, flavonoids, and many other beneficial components. All these hair essential and beneficial components help your hair in more than one way. Fenugreek is known to promote hair growth and reduce hair fall drastically. It has potent antifungal and anti-inflammatory properties which help in maintaining a healthy scalp environment thereby ensuring stronger hair growth.
It is also believed that various compounds in fenugreek may interact with a hormone in the body that is known as DHT (dihydrotestosterone). And the DHT being attached to the hair follicles helps in curbing hair loss. Fenugreek is believed to reduce the DHT build-up and thus slow down the chances of severe hair fall, hair thinning and hair breakage. This potent herb also fights dandruff and makes your hair silky and shiny.
Benefits Of Fenugreek For Hair
Fenugreek has numerous hair benefits! And we have listed below some of the key benefits that fenugreek has on your hair. Check them out:
1. Reduces Hair Fall
Fenugreek seeds are very helpful in improving scalp health and making the hair stronger straight from the follicle. It also reduced the inflammation of the hair follicles thus ensuring your scalp is in good health. With consistent use, fenugreek can reduce hair shedding, and hair thinning to a huge extent and also helps in increasing hair density. As fenugreek contains lecithin, which acts as a natural emollient, it also conditions and moisturizes your scalp and hair thoroughly. Thus, making your hair smooth, silky and shiny efficiently.
2. Prevents Premature Greying of Hair
Fenugreek is rich in iron and potassium which helps in tackling hair concerns like premature greying efficiently. Fenugreek balances the discrepancy of vitamins and minerals required for sufficient melanin production in your hair follicles that ensures the dark color of your hair naturally.
3. Boosts Hair Growth
Fenugreek is a rich source of vitamin A, K, and C along with calcium, iron, protein, folic acid and potassium. These highly essential nutrients help in boosting your hair growth along with making sure that your scalp remains healthy and clean for faster hair growth.
4. Restores Damaged Hair
Fenugreek seeds have amino acids and proteins which help in repairing the damaged hair shafts. Doesn't matter if your hair is damaged due to dehydration, heat styling, chemicals, sun damage, or even hair colors, fenugreek can be that one solution for it all. It boosts the integration in your hair shaft, thus promoting thicker and stronger hair growth.
5. Hair Strengthening Properties
The iron and proteins in fenugreek seeds work as high nourishment for hair. Protein especially helps in to repair dry and damaged hair and caters to repairing the hair shaft. Once the hair shaft is thoroughly nourished, it then strengthens and prevents hair shedding.
6. Antimicrobial Dandruff Treatment
The fenugreek seeds have antibacterial and antifungal properties that help in tackling dandruff. Dandruff is a form of yeast that can cause severe itching and white flakes all over the scalp. fenugreek helps in combating and keeping the dandruff and itching at bay by controlling the infection-causing bacteria and yeast on your scalp.
[ Also Try: Anti Dandruff Treatment Kit for Men ]
7. Packed With Antioxidant And Anti-Inflammatory Properties
It is believed that the anti-oxidant and anti-inflammatory properties of fenugreek can reduce inflammation of the hair follicles. In fact, it can boost the overall health of the scalp and relieve pain at the hair roots. It also has natural antioxidants that help in fighting off the oxidative stress caused by free radicals in your hair follicle cells. Thus, fenugreek helps -in strengthening hair roots and boosting stronger hair growth.
8. Promotes Shine And Silkiness
Just like any salon protein treatment, fenugreek can give your hair a silky and shiny finish at home! Fenugreek is packed with protein that can help in repairing the hair shaft from damage caused by heat tools and coloring. No matter how damaged, dry, coarse, or frizzy your hair is, fenugreek can work wonders on them. Fenugreek contains mucilaginous fiber that has tremendous moisture absorbing properties. Thus, fenugreek can help in maintaining the moisture barrier in your hair strands, thus improving the shine and imparting a softer texture.
How To Use Fenugreek For Hair?
There are various ways to include fenugreek in your hair routine. And if you are planning to use it in your hair care routine, then here is how you can do it -
Use Fenugreek As A Hair Mask 
1) Hair Mask for All Skin Types 
This hair mask is suitable for all hair types. 
Soak around 1 to 2 tablespoons of fenugreek seeds overnight.
Grind it into a fine paste the following morning.
Add a spoonful of lemon juice to this paste and mix it well.
Apply the paste generously to your scalp and hair.
Leave it on for half an hour and then rinse it with warm water. 
2) Hair Mask for Excessive Oily and Greasy Scalp  
This hair mask is suitable for those who have excessively oily and greasy scalp. 
Soak one tablespoon of fenugreek seeds in 2 tablespoons of apple cider vinegar overnight.
Make a paste of this the following morning and apply it to your scalp and hair thoroughly.
Leave it on for half an hour and wash it off with warm water and mild shampoo. 
Use Fenugreek As A Hair Conditioner 
1) Fenugreek With Egg Yolk 
Soak two tablespoons of fenugreek seeds overnight.
Following morning, grind it into a fine paste.
Add one egg yolk and one spoon full of fresh yogurt in it.
Mix all this thoroughly and apply the paste on your hair and scalp. 
Use this as a deep conditioning mask twice or thrice a week for best results. 
2) Fenugreek With Coconut Milk 
In a cup of coconut milk, add a spoonful of fenugreek paste.
Mix it thoroughly and apply it all over your hair and scalp.
Cover your hair with a warm towel for around half an hour.
Wash your hair with a mild or Ayurvedic shampoo for best results. 
3) Use Fenugreek As A Hair Oil 
Add one tablespoon of fenugreek seeds to a cup of coconut or sesame oil.
Heat this on a low flame until the seeds begin to turn brown or the oil starts to boil.
Let the oil sit aside for a few minutes and cool it down. You can store this oil in a glass container for later use.
Use this oil to massage your scalp and hair twice or thrice a week.
Apply it to your hair an hour before you wash your hair. 
4) Use Fenugreek As A Hair Shampoo 
Soak a handful of soap nuts (Shikakai), dried amla (Indian Gooseberry), soap berry (Reetha) along with fenugreek seeds in each of 1 litre of water overnight.
The following morning, boil the water with these ingredients until the quantity becomes half.
Let it cool down and strain this decoction into a clean container.
Use this strained decoction as a herbal shampoo at least twice or thrice a week.
5) Use Fenugreek As A Hair Rinse
Soak two to three spoons of fenugreek seeds in a jar of water overnight.
After you are done with shampooing, strain out the seeds and rinse your hair with this fenugreek water.
You can store this in a glass jar for a week.
This fenugreek water rinse makes your hair soft, silky and lustrous.
How To Eat Fenugreek Seeds For Hair Growth?
If you want to try using fenugreek to promote hair growth and want to in-take orally, then you can try one of these ways to include fenugreek in your eating routine. 
You can begin by using fenugreek in cooking.  Fenugreek is safe for most people in the amount found in food. And you can use it in the 'Tadka' for vegetables and everyday curries such as dal, sambhar or rasam.
Fenugreek powder is yet another way to include it in your routine. Fenugreek powder can be taken as an oral supplement to take advantage of some of its other holistic health benefits. However, it is best to consult a medical professional before consumption as fenugreek has a ability to interact with other medicines and conditions.
You can also directly consume five to ten fenugreek seeds directly early in the morning. It is best to swallow it directly as it tastes a little sour.
You can soak a tablespoon of fenugreek seeds or powder in hot water for about five to ten minutes and have it like your early morning drink on an empty stomach.
If you have salads every day, then add a few sprouted fenugreek seeds to your everyday salad. It usually takes around three to four days for fenugreek seeds to germinate. You can then store these in the refrigerator for a week.
Try roasting fenugreek seeds on a medium flame for about five to ten minutes. Then grind these roasted fenugreek seeds into a fine powder. You can add some water to this and turn it into a paste that can be used in curries for a rich flavor.
Do Fenugreek Seeds Have Any Side Effects? 
While being in a natural form, fenugreek may come with some side effects. Some of them include: 
Headaches
Bloating and facial swelling
Wheezing
Digestive issues or gas formation ‌
Nausea
Diarrhea
Dizziness
Nasal congestion
Coughing
Severe allergic reactions for a few sensitive or allergy-prone people 
Apart from this, if you in-take a large dose of fenugreek, you may go through a sudden drop in blood sugar. In fact, fenugreek may also be toxic to your liver whether you take it alone or with other herbs in a large amount. 
Also, if you are pregnant, it is best to avoid fenugreek. It is not safe for use during pregnancy other than in trace amounts in food. The reason to avoid fenugreek while pregnant may lead to increased chances of birth defects. 
Fenugreek is packed with high proteins and nutrients that help your hair in a million ways. In fact, when consumed, it can also work to flush out toxins from your body. We hope all the benefits, and ways to use fenugreek mentioned above help you in using it to the utmost benefit! Consult your doctor and include fenugreek in the right dosage to make sure it works best for you and shows visible results.  
FAQs: 
1. Can You Use Fenugreek On Hair Everyday? 
A) No. Even though fenugreek works wonders for your hair, it is best to use it twice or thrice a week. Using it more than that may cause pitta dosha and may lead to hair or scalp problems. 
2. How Much Fenugreek Should You Take For Hair Growth? 
A) If you wish to orally in-take fenugreek, it is best to restrict it to - 
For powder form or fenugreek seeds – three to six grams a day before breakfast or empty stomach.
If you wish to in-take fenugreek water, then 12 ml per day would be an adequate amount.
However, it is best to consult your doctor as they may suggest the most adequate dosage of fenugreek in-take based on your medical history.
3. How Long Should You Leave In A Fenugreek Mask?
A) It is best to leave a fenugreek hair mask for about 30 to 40 minutes before washing it off with luke warm water.
4. Is Drinking Fenugreek Water Good For Hair?
A) Yes, fenugreek water is by itself highly beneficial for your health. If you drink it, it tends to flush out the toxins from your body. Thus, helping in improving your digestion and bowel movements and promoting voluminous hair growth. It can also prevent dandruff and other scalp dryness issues.
5. How Long Does It Take For Fenugreek To Grow Hair?
A) To see visible differences and results, it is best to use fenugreek for at least three to four months consistently! It is best to stay patient and let the goodness of fenugreek work its wonders.  
Also Read the Articles: 
---