8 Amazing Benefits of Argan Oil for Hair | How to Use Argan Oil for Hair Growth?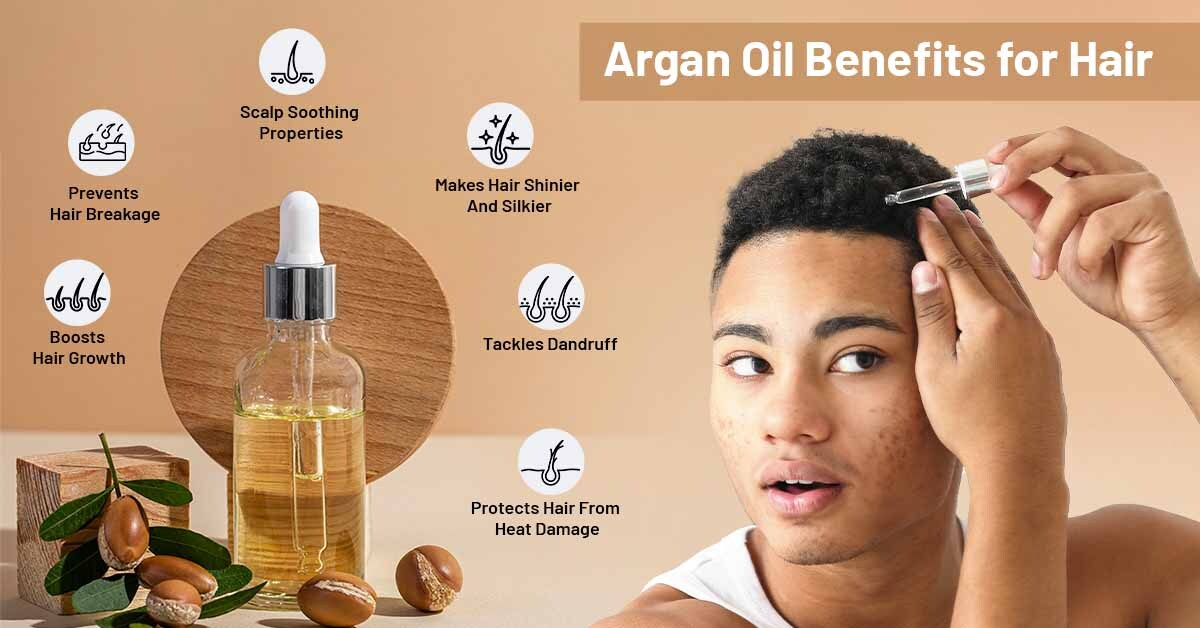 We try a million things to enhance our hair. Some things are natural and some are from the plethora of products available in the market. However, a few things from these may or may not work for all hair types. But if there is one thing that is sure to work on every hair type is the 'liquid gold' that has been essential in Ayurveda for the longest time! Argan oil is that magic liquid that can be your ride-or-die ingredient for flawless hair.

And the best part is that nowadays, numerous hair products are enriched with Argan oil so you can easily make it part of your hair care routine. The Moroccan Argan oil is indeed a star player that helps in enhancing moisture content, fights frizz and protects your hair against damage.
So, if you are planning on including Argan oil in your hair routine, here is all that you need to know about the same.
What is Argan Oil?
Argan oil is considered as a 'liquid gold'. Argan oil is made from the fresh kernels of the Argan tree from Morocco. The oil is found in its pure form and thanks to its highly efficient results in the beauty world, it can be applied topically to the skin, nails, and hair to hydrate and nourish.

In fact, pure argan oil is also used for centuries for cooking and also as a home remedy for health and beauty, including hair loss. Thanks to argan oil's high content of antioxidants, fatty acids, and vitamin E, argan oil is considered as an effective way to nourish hair and skin and protect it from the sun.
Producing Argan oil involves a process. The kernels are carefully extracted from the shell of the argan fruit and then roasted before being pressed to obtain the precious oil. Due, to its versatility and numerous health benefits argan oil has gained popularity worldwide—for both delights and cosmetic purposes.
Does Argan Oil Help Hair Growth?
Rich in fatty acid, Argan oil is known to improve hair in more than one way. It has powerful antioxidants and vitamin E which help in improving the overall health of the scalp and hair. Argan oil improves the hair quality by preventing damage to the cuticle and to the hair shaft. It also preserves the natural pigments (melanin) that provide hair its color and prevent from premature greying.
Argan Oil Benefits for Hair
There are numerous other benefits that argan oil provides your hair with, some of them are -
1. Argan Oil Nourishes Hair from the Inside and Out
From the inside, Argan oil makes sure that it soothes and moisturizes your hair. However, when it comes to nourishing from the outside, it protects the strands from oxidative damage. When compared to other oils, argan oil has smaller sized molecules, which makes it easier and more likely to penetrate the hair cuticle to nourish hair from within.
2. Argan Oil Prevents Hair Breakage and Has Restorative Properties
Argan oil is packed with highly essential and nourishing fatty acids. It also contains hydrating and healing benefits of antioxidants and vitamin E. It is only because of the vitamin E in argan oil that helps in increasing the hair's elasticity. Argan oil helps in restoring your damaged hair by eradicating dryness. It adds moisturizing elements to your hair shafts and makes your hair stronger and more flexible to prevent any breakage caused by tugging or pulling.
3. Scalp Soothing Properties
For those dealing with scalp related concerns like eczema and psoriasis, Argan oil works as a charm! It is a boon that can not only soothe the scalp but also helps in taming down the itchiness. The soothing and anti-inflammatory properties of Argan oil can be beneficial for dry scalp, psoriasis and seborrheic dermatitis. It is best to use the purest form of Argan oil to tackle with dry scalp, including irritated, or dandruff-prone scalp.
4. Argan Oil Makes Hair Shiny And Silky
Highly famous for adding a shine to your hair, Argan oil adds life to your dull and damaged hair. Argan oil is rich in high concentration of essential fatty acids found in the oil, this makes your hair shinier and silkier. Perfect for thick and coarse hair, Argan oil works magically without weighing your hair down.
5. Tackles Dandruff
Rich in antioxidants, Argan oil is great for scalp treatments. For those with recurring dandruff, inflamed scalp or have scalp concerns like prone to itchiness, argan oil can work wonders! It helps in reducing the scalp inflammation and can eradicate conders like dandruff-inducing oxidative stress, an imbalance between free radicals and antioxidants in the body.
6. Boosts Hair Growth
Argan oil has phenols that are highly stimulating to the scalp, it can help in promoting and boosting hair growth. Using argan oil consistently can help in hair loss treatment. In fact, massaging your scalp with Argan oil for a few minutes every day can help in stimulating blood flow and opening the pores thus boosting healthy hair growth.
7. Protects Hair from Heat Damage
Are you someone who styles your hair often? Argan oil helps in acting as a heat protecting agent! Yes, argan oil shields your hair from damage that is caused by heat styling tools and blow dryers. Argan oil can withstand higher temperatures and is ideal for heat styling that protects your hair from heat damage, breakage, and split ends.
8. Argan Oil Detangles, Smoothens Frizz and Seals the Split Ends
Having smaller molecules, Argan oil can easily penetrate the hair cuticles and work effectively to show visible results. The Argan oil's nutrients get absorbed faster and quicker into the hair shafts making your hair softer and less prone to tangling. The vitamin E and omega fatty acids that is packed in Argan oil provide protection and moisture to dry, damaged and frayed hair shafts. In fact, vitamin E strengthens the hair while omega fatty acids soothe and tames the frizzy ends and frayed hair.
How to Use Argan Oil for Hair Growth?
There are several ways to use argan oil for your hair. And if you want to include using it in different ways, here are some mentioned below -
1) Use Argan Oil Like a Shampoo and Conditioner
Best for intense moisture and protection for dry, damaged and coarse hair, it is best to add argan oil to your shower routine.
You can start with the regular shampoo that you use every time -
Pour your usual amount of shampoo that you use onto your palm.
Add two to three drops of pure argan oil to the shampoo and rub your hands together until the shampoo and oil is thoroughly mixed.
Use this as your shampoo like you usually do and let it lather well.
Wash and rinse your hair.
For effective results, it is best to use it two to three days a week.
However, if you want an easier and even more effective option, then you can try out the For Men Hair Growth Shampoo. This multi-functional hair growth shampoo is enriched with Argan oil and is also powered with Caffeine, Biotinoyl Tripeptide -1, Ceramides, water cress, Vitamin E and Aloe Vera. The shampoo helps in rejuvenating your hair growth and stem cells and promotes healthy and stronger hair growth. It prevents hair fall and also blocks out DHT build-up near the roots of the hair follicles. Being paraben free, non-comedogenic, sulphate free and non-irritating, this is a perfect argan oil infused shampoo for consistent use. 
2) Use Argan Oil Like a Hair Mask or Leave-In Conditioner
Add argan oil in your hair care routine in two amazing ways
To make a hair mask -
Take eight to ten drops of argan oil and massage it into your hair and scalp. You can take more oil if you have long hair.
Massage it for a good ten minutes and ensure that your hair is covered from hair roots to the ends.
Take a hair wrap or a towel and wrap it around your hair.
Leave it overnight to work its magic.
Wash your hair like you usually do in the morning.
Use argan oil as a leave in conditioner to ensure it reduces hair breakage and makes your hair styling effortless without knots or tangles.
After shampooing your hair thoroughly, towel dry it so that your hair is not dripping.
Take a few drops of argan oil on your palms and apply it on the length of your hair.
Let your hair dry naturally and you can style it like you do regularly.
For effective results, do this twice a week and you will notice visibly shiny and smoother hair.
3) Argan Oil as a Hair Oil
Just as you use any other hair oil, use argan oil to give your hair the much needed dose of nourishment.

You can also try Formen Onion and Black Seed Hair Growth Oil for healthy hair growth. It also controls dandruff, rejuvenates the scalp health, reduces hair loss and supports thick & shiny hair.
4) Use Argan Oil as a Styling Product
Use argan oil as a hair styling product to ensure you have smooth hair and less frizz. In fact, argan oil can work as a heat protectant if you use it before heat styling.
Take a few drops of argan oil on your palms and lightly apply it all over your hair.
Ensure your hair is coated well with argan oil.
You can style as usual and the heat styling will not cause any damage to your hair.
How to Choose the Best Argan Oil for Hair?
When it comes to picking the best argan oil for hair, it is essential to pick a pure one. Pure argan oil may cost slightly more, however, it may go a lot further and benefit you in many ways. Pure argan oil will have maximal effectiveness!
When choosing for the best argan oil for hair, make sure of these few things -
The hue of the argan oil should be amber or yellow-golden in color.
The oil should be 100% pure and free from any other adulteration and mixing.
It should come in a dark-colored glass bottle for secured and safe storage.
The oil should be labeled for cosmetic use
The oils should have a slightly nutty scent to ensure that it is pure as the process of extracting the oil involves roasting the argan kernels.
If you are buying argan oil based shampoos, conditioners, and other hair styling products, ensure that argan oil is mentioned as the first ingredient on the label. If it is listed first only then it is a star ingredient of that product and will give you maximum argan oil benefits.
Argan Oil Side Effects
Generally, when used in its pure form, argan oil does not have any side effects. However, for those allergic to nuts, or have highly sensitive skin may face a few side effects. This includes rashes, excessive itchiness on the skin, redness, allergic reactions and in the rarest of cases it can even cause difficulty in breathing. 
[ Also Try: ForMen Dandruff Treatment Products Kit ]
After going through all the amazing benefits and ways to include argan oil in your hair care routine, we are sure you are going to go for it! Take the leap of faith and include the purest form of argan oil, or opt for the best products that have argan oil in them as their star ingredient. Argan oil is surely a game changer for your hair and you will not switch to anything else!
FAQs:
Q) What Color Should Pure Argan Oil Be?
A) Pure Argan oil with no mixture or adulterant should be of amber or golden yellow hue. If it is way too pale, then it is likely that it is either mixed with some other oil or has been treated.
Q) Is Argan Oil Good for Hair Growth?
A) Yes, Argan oil has phenomenal benefits for your hair. It nourishes, moisturizes and protects your hair against mechanical damage from styling. It also split ends and hair breakage.
Q) Should Pure Argan Oil be Refrigerated?
A) It is best to store pure Argon oil in a dark and cool place that is away from the bright or direct sunlight or heat. However, you surely can store it in the refrigerator, but make sure you leave it out to warm on room temperature before you use it.
Q) Can Argan Oil be Applied to the Scalp?
A) Yes, most certainly! Argan oil has many beneficial properties that help in soothing scalp related concerns. The oil gets easily absorbed in your hair and scalp. It can tackle various concerns like psoriasis, eczema, dandruff, itchiness and more. Argan oil can also reduce scalp inflammation and help in soothing the affected part.
Q) Can I Use Argan Oil on My Hair Every Day?
A) No, it is best to use Argan oil two to three times a week. Argan oil is packed with essential fatty acids and vitamin E which has high nourishing properties. Using it a couple of times can also effectively make your hair shiny, smooth and healthy.
Also Read the Articles:
Disclaimer: The information provided on this page is not a substitute for professional medical advice, diagnosis, or treatment. If you have any questions or concerns about your health, please talk to a healthcare professional.
---