Jatamansi For Hair Growth: Benefits, How to Use and History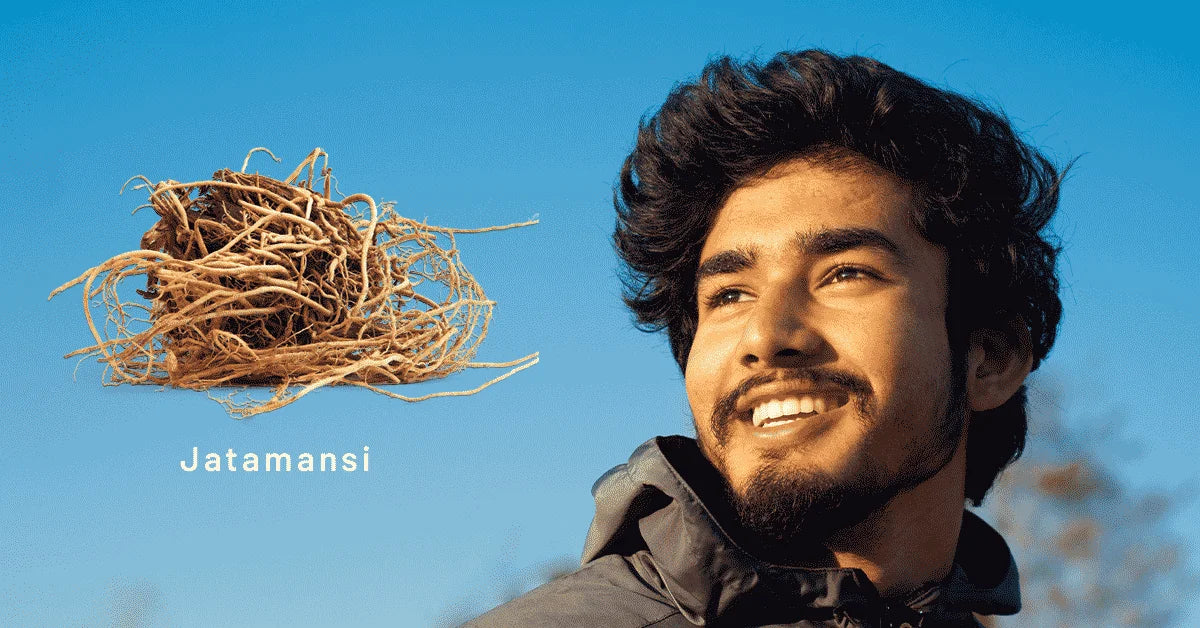 Hair fall is one of the common problems that most men face. While there are various ways and products that help in curbing and effectively stopping hair fall, nothing beats the Ayurvedic Jatamansi. It is one of the best herbs from the pristine Himalayas that is known to effectively help in enhancing hair quality while boosting healthy hair growth. The Jatamansi herb is available in the market in the form of roots, powder and oil. Here is everything that you need to know about this magical and cost-effective Ayurvedic herb – Jatamansi.
History of Jatamansi (

जटामांसी का इतिहास)
Jatamansi is a flowering herb that belongs to the family Valerianaceae. The scientific name of this rhizomatous perennial herb is Nardostachys Jatamansi. It is also known as Muskroot, Nard, Nardin or Spikenard. This Ayurvedic herb is found amidst the moist, steep, rocky, undisturbed grassy slopes of the Himalayan ranges. Jatamansi is widely distributed in high altitudes regions and elevated ranges of India, Nepal, Pakistan, Bhutan, Myanmar and Southeast China.
Jatamansi can grow up to a height of 1 meter, while in their early stages the flowers of this plant look bell-shaped and are pink in color. In Ayurveda, Jatamansi is a dwarf, perennial, hairy, herbaceous and endangered plant species with numerous health benefits. From being a brain tonic to help memory and brain functioning to having antioxidant properties – Jatamansi is packed with it all!
Jatamansi has a rich history of medicinal use. It has been highly valued for centuries in Ayurvedic and Unani (ancient Greco-Arab) medicines. In Ayurvedic medicine, Jatamansi is used as a bitter tonic, or as an antispasmodic, stimulant to treat hysteria, convulsions, and epilepsy. And, the root of this herb has been also medically used to treat insomnia and blood, circulatory, and mental disorders. Whereas, in the Unani system of medicine, the formulated preparations of Jatamansi are used as an analgesic, heptatonic, cardiotonic and diuretic.
Jatamansi Root Powder Uses (

जटामांसी की जड़ के चूर्ण के उपयोग)
The powder of Jatamansi is made after drying its roots and is further crushed to make Jatamansi powder. 
This powder form of Jatamansi is used in multiple ways to tackle various concerns and diseases.
It can be applied to your skin to fight bacterial infection with its antifungal and antioxidant properties.
Jatamansi powder also helps in eliminating odor, has anti-inflammatory, laxative, sleep-inducing properties while also being good for the uterus among others.
Jatamansi powder is also an effective option to treat constipation along with other digestive concerns.
In ancient times, Jatamansi powder was used primarily for maintaining the health and functionality of the female reproductive organs.
According to Ayurveda, Jatamansi promotes wound healing due to its Ropan (healing) property and also helps in preventing wrinkles due to its Snigdha (oily) nature.
Benefits of Jatamansi (

जटामांसी के फायदे)
When it comes to overall benefits of Jatamansi for hair as well as for your body, we have listed a few below:
Primarily, Jatamansi is highly popular and often used in modern medicine for neurological and cognitive function aids. 
It is widely used to cure various disorders of the digestive system, circulatory system, reproductive system, urinary system, respiratory system, nervous system and skin diseases.
Jatamansi is known to relieve various symptoms of seizures and vertigo in fever.
The formulated version of Jatamansi for hair is used in the form of oil, which is useful to achieve silky, smooth, and healthy hair. 
Jatamansi is also used to help cure insomnia, heart diseases, mental disorder and hypertension. 
Jatamansi has therapeutic activities like antifungal, antimicrobial, antioxidant, hepatoprotective properties.
The oil of Jatamansi helps in soothing antiarrhythmic and anticonvulsant activity and is also used as a flavoring agent in the preparation of medicinal oil. 
It also helps in increasing one's appetite.
It is useful in the management of hepatitis and enlargement of the liver.
Jatamansi also eliminates the phlegm caused due to asthma and cough. 
It has preventive properties from cerebral ischemia, epilepsy, and even liver damage.
It helps in soothing scorpion stings.
Jatamansi Benefits and Uses for Hair (

बालों के लिए जटामांसी के फायदे
)
Jatamansi uses for hair are numerous! Here are some of the best benefits of Jatamansi for hair.
Promotes Hair Growth: Jatamansi contains antioxidants that help to improve blood circulation to the scalp, which in turn stimulates hair follicles and promotes hair growth.

Reduces Hair Fall and Strengthens Hair: Jatamansi is known to strengthen hair follicles and reduce hair fall by nourishing the scalp and hair roots.

Helps Prevent Split Ends: Jatamansi helps to strengthen the hair shaft, which can help to prevent split ends and breakage.

Prevents Premature Greying: The antioxidant properties of jatamansi help to prevent premature greying of hair by protecting hair follicles from oxidative stress.

Reduces Dandruff and Dry Scalp: Jatamansi has anti-inflammatory properties that help to soothe and calm the scalp, reducing dandruff and dry scalp.

Adds Shine and Luster to Hair: Jatamansi helps to nourish and moisturize hair, adding shine and luster to dull and lifeless hair.

Provides a Natural Fragrance: Jatamansi has a sweet, woody fragrance that provides a natural scent to hair without the need for synthetic fragrances.

Helps to Relax and Reduce Stress: Jatamansi has a calming effect on the nervous system and helps to reduce stress and anxiety, which can contribute to hair loss.

Soothes the Scalp: Jatamansi has a calming effect on the scalp, which can help to reduce inflammation and irritation.

Improves Hair Texture: Jatamansi contains natural conditioning agents that help to improve the texture of the hair and make it more manageable.
Jatamansi for Hair Growth (

बालों के विकास के लिए जटामांसी)
As per Ayurveda, Jatamansi for hair growth is a perfect remedy! It has Ayurvedic properties which can balance the three doshas in the body Vata, Pitta and Kapha dosha. It works wonders, especially in re-balancing Pitta and Kapha which often leads to hair disorders. The hair fall is usually caused due to an aggravated Vata dosha in the body So, Jatamansi oil extract helps in balancing the Tridosha – Vata, Pitta and Kapha dosha.
It controls hair fall and promotes hair growth when generously applied to the scalp. Jatamansi benefits also include eradicating excessive dryness on the scalp with its Snigdha (oily) and Ropan (healing) properties. With regular hair oiling with Jatamansi oil, you may also notice a reduction in dandruff and split ends. Apart from oil extract, Jatamansi powder also helps in eliminating hair concerns and boosts hair growth. It makes your hair silky and smooth by eliminating the roughness, dryness and brittle ends.
When combined with other hair enrichment herbs such as Bhringraj, Brahmi or Amla, Jatamansi shows effective and efficient results. Using Jatamansi in any form can bring a noticeable change to your hair. It darkens the grey hair as it contains a few active constituent chemicals that are natural dyeing agents. Apart from enhancing your hair quality and texture, most often Jatamansi is prescribed for those tackling with premature greying.
Jatamansi Oil for Hair Growth – Other Benefits (

बालों के विकास के लिए जटामांसी तेल – अन्य लाभ)
Applying oil of Jatamansi for hair prevents pre-mature greying and prevents scalp issues due to its antifungal and antioxidant activities. Jatamansi benefits for hair also include healthy growth as it helps to increase the hair follicular size and helps to lengthen the growth phase of hair. Applying Jatamansi oil helps to promote stronger hair growth while making them extremely smooth and silky.
Apart from Jatamansi benefits for hair, it also works as an optimum solution for skincare issues. It has protective properties that help in tackling skin concerns caused due to pollution and environmental aggressors. It effectively treats fungal infections, breakouts, skin itchiness, scaling and even psoriasis.
Jatamansi essential oil has a nerve relaxing smell that is extracted from a few stem parts of this herb that grows below the ground. It has a very soothing and calming effect that helps in hypertension or anxiety and works great as a stress reliever.
How to Use Jatamansi for Hair? (

बालों के लिए जटामांसी का प्रयोग कैसे करें?)
A powder is prepared from the dried Jatamansi roots and it can be consumed daily with honey or water. The Jatamansi powder can also be turned into a paste with the help of coconut oil or neem oil.
Here are a few ways that you can use the Jatamansi for hair.
How to Use Jatamansi Oil for Hair? (

बालों के लिए जटामांसी तेल का उपयोग कैसे करें?)
Regular application and massaging of Jatamansi hair oil can help in preventing premature greying. It also helps in darkening the hair and can be used as a natural dye.
Applying a mixture of Jatamansi oil with coconut or sesame oil on the scalp helps in promoting shiny, silky and smooth hair with healthy hair growth.
 Castor oil mixed with Jatamansi oil deeply nourishes your hair and strengthens it.
How to Use Jatamansi Powder for Hair? (

बालों के लिए जटामांसी पाउडर का इस्तेमाल कैसे करें?)
Mix Jatamansi powder with the oil of your choice to make it into a thick paste and apply it on the scalp to promote hair growth and reduced bald patches.
Jatamansi powder mixed with coconut oil helps in nourishing and moisturizing the hair and reduces excess sebum oil.
There are a plethora of products that help in dealing with hair concerns. But when it comes to Jatamansi for hair, it is one of the most effective and reliable options. However, this Ayurvedically-approved herb has become difficult to obtain in its natural form as it has been pushed towards endangerment. Still, there are abundant products that have Jatamansi in various forms of bottled oils, powders, paste and even as orally-prescribed medications. You can pick any of these forms to tackle with your hair concerns. All the above-mentioned benefits and medicinal properties of Jatamansi for hair are sure to help you in more than one way!
FAQs
Q: Are there any side effects of using Jatamansi on your hair?
A: No, there are no reports of any side effects of using Jatamansi in the form of oil, powder or paste when used externally on your scalp and hair.
Q: Does Jatamansi help in regrowing hair?
A: Yes, Jatamansi has hair growth properties and it also helps in hair growth in alopecia caused by chemotherapy.
If you are struggling with hair loss issues, try the following products to improve Hair Growth:
1. Minoxidil Topical Solution for Men's Hair Growth
Also Read the Related Articles
---