Redensyl Vs Minoxidil: Which is Better for Hair Growth?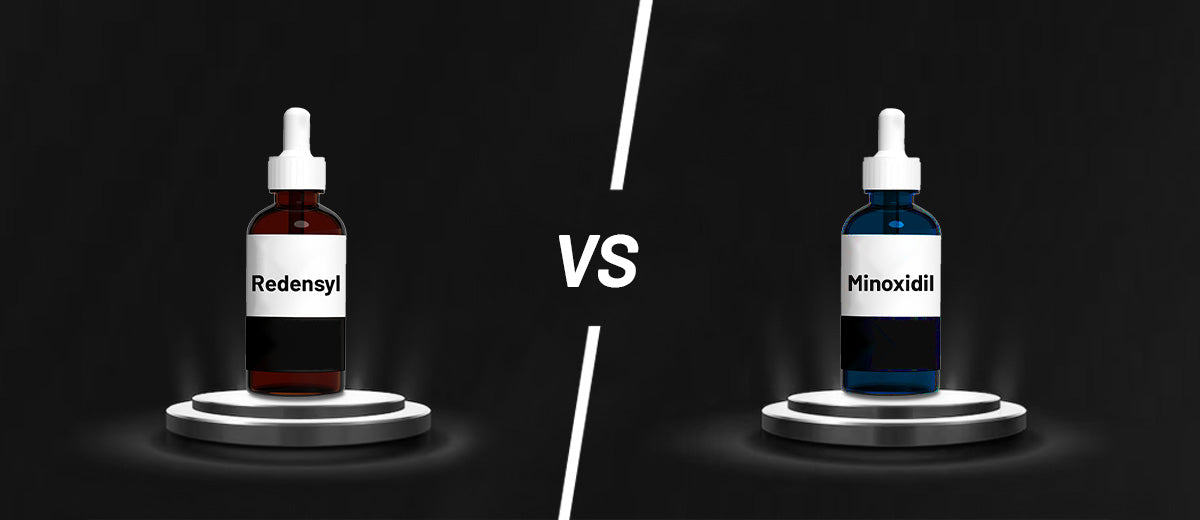 Do you have thinning hair? Are you getting confused in selecting the best product among Redensyl and Minoxidil for your hair growth? We can assist you with choosing a better one.
Hair loss is a common problem that affects people of all ages and genders. A few of the factors include genetics, ageing, stress, and poor nutrition.
Minoxidil has been the standard treatment for hair loss for many years, but Redensyl has recently entered the market.
In this article, we will compare Redensyl vs. Minoxidil and look at their differences, benefits, and drawbacks to help you decide which is best for your hair.
What is Redensyl?
A proprietary hair care component called Redensyl® is a combination of different plant-based substances that target hair stem cells and encourage hair development. Redensyl is made of Glycerin (and) Aqua (and) Sodium Metabisulfite (and) Larix Europaea Wood Extract (and) Glycine (and) Zinc Chloride (and) Camellia Sinensis Leaf Extract.
Redensyl is frequently found in shampoos and serums for hair, and it is promoted as a natural, non-invasive alternative to conventional hair loss therapies.
How Does Redensyl Work?
Redensyl is an ingredient that promotes hair growth and stops hair loss by concentrating on the stem cells in hair follicles. It comprises the plant-derived substances DHQG and EGCG2, which promote stem cell division, extend the hair development phase, and reduce inflammation linked to hair loss.
Redensyl's blend of plant-based chemicals, which includes DHQG, EGCG2, glycine, and zinc, works together to activate the Wnt/β-catenin signaling pathway, strengthen hair follicles, and maintain healthy hair.

Redensyl is a well-liked option in hair care products because clinical studies have demonstrated its effectiveness in enhancing hair density and reducing hair loss.

Now let's see the benefits and side effects of Redensyl.
Benefits of Redensyl:
Redensyl provides various advantages for hair, including the following:
Stimulating the activation of hair follicle stem cells, which will boost hair growth and density.
It is a successful treatment for thinning hair since clinical tests show a 28% increase in hair density.
Minimising hair loss and breakage by improving the anchoring of hair follicles to the scalp.
Providing a safe, all-natural alternative to hair transplants and other conventional hair loss therapies like minoxidil.
Releasing anti-inflammatory properties that calm the scalp and reduce irritation causing hair loss.
It is a practical and hassle-free choice for boosting hair development and enhancing hair density because it is easy to include in hair care products like shampoos and serums.
Redensyl is generally a promising ingredient for people trying to enhance the health and appearance of their hair, especially for those who are concerned about hair loss or thinning hair.
Rather than Redensyl by itself, Redensyl added with Kopexil, Procapil, Amla, Hibiscus, Follicsan, Bhringraj, Saw Palmetto, Biotinoyil Tripeptide is a more potent and efficient formula for stimulating hair growth.
The ForMen Hair Growth Serum has this superior formula that is better than other Redensyl formulations for preventing hair loss, promoting new hair growth, and maintaining the strength and health of your hair.
It has clinically proven natural Multi-Peptides that help nourish hair follicles, which can lead to Thicker, Fuller, and Healthier Growth!
Apply 1ml of hair growth serum on the affected scalp area, and leave it overnight followed by ForMen hair growth shampoo. The serum has to be used regularly and consistently for at least 6 to 12 months for visible results.
Side Effects of Redensyl
Here are some possible Redensyl side effects to consider:
1. Initial Hair Shedding: At first, you can notice a slightly elevated hair-shedding phase. But don't worry; this is only a passing phase as your hair gets ready for new growth.
2. Allergic Reactions: Although rare, it is possible that certain individuals may be allergic to certain ingredients in Redensyl, resulting in an allergic reaction.
3. Scalp Sensitivity: A few individuals who use products containing Redensyl may experience mild scalp itching, redness, or irritation.
What is Minoxidil?
A topical treatment called minoxidil is used to treat hair loss. It was first created to treat high blood pressure, but it was later shown to promote hair growth.
By boosting blood flow to the hair follicles, minoxidil promotes hair growth. It is recognized as a safe and effective treatment for hair loss in both men and women and is offered over the counter and in prescription-strength formulations.
How Does Minoxidil work?
The FDA has approved the medication minoxidil to treat hair loss and promote hair growth. It accomplishes this by increasing blood flow to your hair's roots, supplying them with vital nutrients and oxygen. Additionally, this lengthens the hair growth phase. Your hair becomes thicker and healthier as a result.
Minoxidil is available in 2% and 5% strength solutions and is effective for treating several hair loss conditions, including androgenetic alopecia.
To keep seeing the benefits, you need to use it regularly because if you stop, the progress might go back. Minoxidil helps cells divide and make new DNA, which leads to hair growth. Sometimes, when new hair is about to come out, you might notice some initial shedding of old hair.
Results usually start to show after five to six months of constant treatment, so patience and consistency are required.
Now, let's see the benefits and side effects of Monoxidil.
Benefits of Minoxidil:
Minoxidil offers many advantages for hair, such as:
1. Boosts Hair Growth:
It really helps hair to grow and stops more hair from falling out.
2. Works Against Genetic Hair Loss:
It's really good at treating the most common kind of hair loss that comes from your genes.
3. Easy to Use:
You can just put it on your scalp like a lotion, making it easy to use every day.
4. No Surgery Needed:
You don't need to do any surgery or big procedures. It's a simple treatment.
5. Safe and Easy:
When you use it the right way, it's safe and doesn't cause problems.
6. Goes Well with Other Treatments:
You can use it with other treatments like finasteride or hair transplants to get even better results.
The ForMen Minoxidil Topical Solution USP 5% is one of the best products. It is scientifically proven and recommended by doctors. This topical solution helps to stimulate hair growth and reduces hair fall. For better use at least for five to six months.
Apply 1ml of topical solution on the scalp, gently massage for proper distribution and leave it over-night, and wash hair normally with gentle paraben and sulfate-free "ForMen Hair growth shampoo".
Side Effects of Minoxidil:
When used properly, minoxidil is often secure and well tolerated. Nevertheless, it can have negative effects on some people, just like any medication.
Here are some common side effects of minoxidil:
1. Mild Scalp Irritation: Some individuals who use minoxidil may have mild scalp itching, redness, or irritation.
2. Dizziness or Lightheadedness: Some people who use minoxidil may experience dizziness or lightheadedness.
3. Initial Hair Shedding: At the start of using minoxidil, some people might notice more hair shedding. This is normal and should lessen as new hair grows. This is more common in women.
4. Chest Pain or Rapid Heartbeat: Though uncommon, minoxidil could lead to chest pain or a fast heartbeat.
Redensyl Vs Minoxidil:
Let's see the differences between Redensyl and Minoxidil.
| | | |
| --- | --- | --- |
| Factors | Redensyl | Minoxidil |
| FDA Approved | No | Yes |
| Using from | New (2014) | Used over 30 years |
| Mechanism | Supports hair follicle stem cells for hair growth | Increases blood flow to hair follicles for hair growth |
| Type of hair loss condition | Stages 1 and 2 of telogen effluvium | Stages 3 and above pattern hair loss |
| Treatment duration | Upto 1 Year | 5-6 Months |
| Usage | Applied topically to the scalp | Applied topically to the scalp or Orally as a pill. |
| Re-growth in balding areas | No | Yes |
| Who should avoid | Safe for all. Feeding safe | High BP, Heart Disease, Pregnancy, Allergy. |
Redensyl and Minoxidil: Which is Better for Your Hair Loss?
Redensyl and Minoxidil both successfully encourage hair regrowth and increase hair density, but it is challenging to tell with certainty which one is superior.
While Redensyl is an efficient drug used to treat the early stages of hair thinning in both men and women and encourage quick hair growth, topical application of Minoxidil solution is indisputably the most successful hair loss therapy due to its incredibly high success rates.
Ultimately, the decision between Redensyl and Minoxidil would depend on personal preferences and considerations including the severity of hair loss, medical history, and personal tolerance.
Conclusion:
The effectiveness of Redensyl and Minoxidil in stimulating hair regrowth therapy and enhancing hair density has been demonstrated, however, each treatment has particular advantages and disadvantages. Both Redensyl and Minoxidil are still effective treatments for hair loss. which one is chosen will depend on the preferences and circumstances of the individual.
Also Read the Articles:
References:
---